Kira's dreams had twisted and turned until he no longer knew truth from dream. His memories fractured in so many different pieces that all he knew was the girl who had cursed his soul wanted out again. He landed his Gummi Ship on the pale green grass. He disembarked, and was overcome by the vivid visions of a tall redhead wearing a cloak. He looked to his hands and saw a nunchuck in them, but it seemed transparent and almost nonexistent.

Kira closed his eyes and focused his breathing. Maybe, if he tried hard enough, it would just go away. He opened his eyes to find that the nunchucks had indeed disappeared, but now a ghost of the girl in his dreams stood in front of him. He stumbled back a few steps, frantically grasping at the in in an attempt to regain his footing. The familiar burn sank into his eye socket and spread to his cheek. As much as he wished he'd grown used to the sensation, every time it appeared he remembered the pain of the first time.

"Who are you?" He scoffed at himself. As if he didn't already know who she was, in a sense. Without his brother or Nyx here with him, he realized that he no doubt seemed unstable to any potential outsider. Heaven, help me, he thought, ironically. He waited in the silence, but the girl didn't vanish and merely touched her forefinger to her lips. Kira observed the crimson beads around her throat and dismissed the hint of a scar or two as imagined. More silence weighed down on him. "Look, if you're just going to torment me by showing up from my eternally cursed mind, I--"

""Azumi Cho." The words appeared before him like an ink, or so he thought, because he blinked and they vanished as quickly as they had come.  Even the girl, in her slim black sweater and plaid skirt, turned translucent.

"Is that your name?"

The figment of his imagination nodded.

"What does a lost soul like you want with the Angel Ferryman of the Dead? Why? Why did you curse me? Why bring me here?"

The girl's eyes brimmed with tears, and Kira's left eye stopped burning, only because water trickled from it. The girl pointed past a garden to what looked like a ruined castle. ""Answers." The words and girl left Kira in his solitude.

The angel unfurled his wings and flapped a couple of times. His desired as much space to himself as he could manage as he trekked to the castle.  The colors of the garden caused the burning ache of memories to dance along his mind. He sought answers, and decided for once that maybe his delusions would lead him to somewhere or something as they had promised.
___________________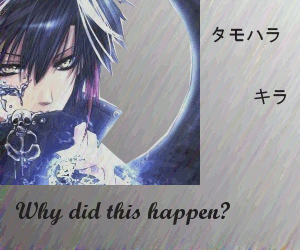 Nothingness Metal Cure