Statistics
We have
3557
registered users
The newest registered user is
Shirou Seeker of Duckness
Our users have posted a total of
143994
messages in
12544
subjects

▪·Quote·▪  
❝Tu ferais mieux de rester en bas, mon amour.❞
▪·Name·▪
Keaghan Katja
Pronounciation: Keeh-gahn Kaht-yah
▪·Alias·▪
Kill Shot Katja: This is self explanatory. Her accuracy is admirable and tends to aim to take life rather than simply wound one.
Arachnid: This title was earned due to just how much she is comparable to the likes of a spider. With her web-like grappling hooks and even the webbed design tracing down her back. The helmet resembling the eyes of the creature, and her tendencies to hang from webs even upside down. Additionally it is an indirect remark on her almost completely undetectable stealth and strategy.
▪·Age·▪
24 Years
▪·Gender·▪
Female
▪·Species·▪
Accelerated Human
▪·Nationality·▪
½French ½Russian
▪·Appearance·▪
Overall the hybrid has a slim, yet voluptuous figure which is highlighted by her outfit. A skin-tight bodysuit adorns her shapely figure, decorating it with shades of purple and glowing red beams. What tends to differentiate her from commonality most would probably be the pigmentation of her skin which carries a vivid violet at a slightly lighter hue than that of her hair. In addition, Keaghan wears what you could call a helmet of the sorts. It's intended use is primarily to serve as some sort of magnifying device.. Much like a pair of binoculars, yet with far stronger capacity.
She is quite tall as she stands 6 feet with her heels on. Otherwise, she is roughly 5 Feet 8 Inches in height. She's often seen with some sort of weapon in hand, and is quite flexible/agile in general. So it shouldn't come off as odd to only catch a glimpse of her. Another notable facial feature would be the intense amber hue of her irises and limbal ring which produces a radiance during unspecified times. In total, it is quite easy to separate her from the rest of society thanks to her unique looks acting as the sufficient supplement they are to that cause.
Imagry
▪·Voice·▪
https://www.youtube.com/watch?v=vO8TRGaqM9I
▪·Birthday·▪
August 31st
▪·Personality·▪
She is generally apathetic, though still feels emotion as any other human would, she simply decided not to express it as evidently as another might simply out of her own free will is all. Perhaps it has some significance to her stealthy methods of maneuvering herself throughout the plane, or it could be as simply as a disinterest in communication. For the most part, she is quite literally an enigma in character, however this does not mean she cannot eventually be read. It would simply require the right individual and their administration of the correct approach as well, however this would definitely prove increasingly difficult, as she is also quite stubborn. Not only this, but her stubbornness and suppression do often result in a good demonstration of her short fuse, going off on anything in sight if it is applicable.
She may come off as smug at times especially to an opponent or someone she sees as below her, cracking jokes aimed towards frightening or intimidating small-fry as well as simply taunting them with a grin or go as far a fire a shot in their direction. I suppose you could call her a prankster of the sorts, but a far edgier one as well.
When she does make alliances is when things begin to loosen up and the tension is alleviated slowly but also surely. She may begin to develop such a great liking that it becomes borderline obsession towards the person of interest. However she may easily be shaken off with a firm remark regarding her "clinginess" in the worst case. This also roots into her motherly-ish instincts to protect those she sees a vital to her existence or enjoyment. Because of this, she is not a mercenary, but quite the opposite of what you'd expect from her. Katja is loyal and unyielding.
The battlefield is no different for her either. Rather, her determination multiplies in a stoic wall of courageousness and a will to get the job done. You could say her sense of duty is through the roof, which is also why she values having a purpose nearly more than anything else at all. Keaghan is known for her speed and unpredictableness and of course..the sheer intimidation she plagues upon those who identify as her unfortunate opponents.
▪·Biography·▪
Born on the battlefield, raised with gunfire ringing through her ears, practically had her fist locked around the firearm since she opened her eyes. Keaghan Katja was a child born between a great discord unleashed by war. She lived her life by the side of her parents for roughly three years before they perished, instructing her to find a purpose which would aid the land they loved oh so dearly.
Acknowledging this, the very young female trekked on into unfamiliar territory for days before she reached the headquarters of an establishment which soon took her in as an apprentice to their cause for war. There, she was trained as a soldier for the next decade until she was fit to take her skills to the open fields.
However, there was still an issue. She refused to take life, thus putting her own in danger. In fear of losing their precious war-prodigy, she was recalled and was forced to undergo a genetic remodel, making her some sort of android like being in a sense, though she still held a part of her humanity. This transformation did make her fearless, but it also unleashed a recklessness within her. That's when things went especially downhill.
She basically did as she pleased, when she pleased. There were no rules to follow, nobody you couldn't kill. Everyone was a target regardless of the color they clad or the title they had donned. Now free to do as she pleased..even in the midst of  global chaos, she left for a new world, seeking a new purpose, and a newfound freedom.
▪·Elements·▪
Cure, Time, Gravity, Metal
Last edited by Keaghan Katja on March 5th 2017, 8:17 pm; edited 1 time in total
___________________
Character Theme

Keaghan Katja




Post Count

: 3



___________________
Darkness | Fire | Gravity | Cure

Hoshiko

Site Owner




Post Count

: 339



Unapproved. Realized that you didn't include your elements.
___________________
Darkness | Fire | Gravity | Cure

Hoshiko

Site Owner




Post Count

: 339



My bad, didn't think it went here. Updated.
___________________
Character Theme

Keaghan Katja




Post Count

: 3



___________________
Darkness | Fire | Gravity | Cure

Hoshiko

Site Owner




Post Count

: 339



___________________
Darkness | Gravity | Cure | Time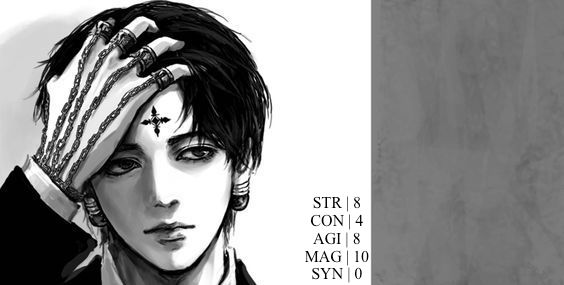 Black Bishop

Belal

The Eldritch Horror




Post Count

: 83




---
Permissions in this forum:
You
cannot
reply to topics in this forum