Statistics
We have
3557
registered users
The newest registered user is
Shirou Seeker of Duckness
Our users have posted a total of
143994
messages in
12544
subjects

Gloom
Skill Lvl. 1
Name:
Mana Hoarding
Element(s):
N/A
Effects:
The user can store mana in a physical growth akin to storing it in an item. The growth shares his constitution. The user can use mana stored this way, even when his pool is in cooldown. Removing the growth or doing more than moderate damage to it will destroy the mana inside. The mana destroyed causes explosive magic damage to everyone in a 3 meter radius, including the user. This damage is proportionate to the amount stored (5 MP being low minor damage, 250 MP being 3x extreme damage), as is the size of the growth (5 MP being a pimple, 250 MP being a torso)
Last edited by Cap on March 11th 2017, 2:12 am; edited 4 times in total

Cap




Post Count

: 22




Cap




Post Count

: 22



You might be pushing the limits on racial augmentation with Heartless Limitation. We're going to need Hoshi's verdict. Personally, beyond damage balance, Flatten and Keyblade Tracking need to be a separate abilities.

Mutable form needs to be an active skill.

Should we allow multiple costs, Magic fist would need to be an active skill. However, I'm opposed to the subversion of the one cost, one effect rule spells generally have. You can make a case against it, as it's a skill, but you'd need to convince a staff member.

In regards to Champion of the Arcane, I oppose passive MP drain, even if conditional.

I'm too biased on Mana Gorging, as I've proposed the idea myself. You'd need another administrative member to look it over.
___________________
Darkness | Gravity | Cure | Time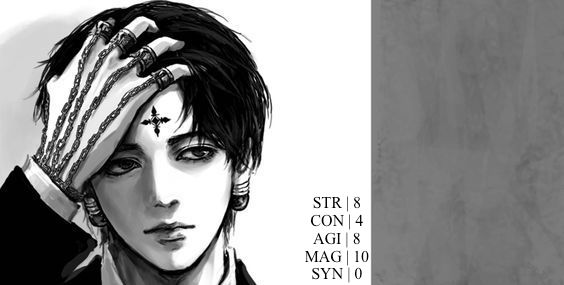 Black Bishop

Belal

The Eldritch Horror




Post Count

: 83



The first skill is entirely composed of abilities Heartless have in the series. They are all encompassed by the theme of "heartless physiology".

Edited.

The skill might be too flexible. Discuss amongst staff for sure.

Fair enough.

That's fine.

Cap




Post Count

: 22




Cap




Post Count

: 22



___________________
Darkness | Fire | Gravity | Cure

Hoshiko

Site Owner




Post Count

: 339




Cap




Post Count

: 22



___________________
Darkness | Fire | Gravity | Cure

Hoshiko

Site Owner




Post Count

: 339




---
Permissions in this forum:
You
cannot
reply to topics in this forum