Statistics
We have
3557
registered users
The newest registered user is
Shirou Seeker of Duckness
Our users have posted a total of
143994
messages in
12544
subjects

---
Name: Belal Arroyo
     Aliases: ???
Age: 27
Sex: Male
Species: Artificial [H]eartless
Appearance
   Height: 6' 2"
   Weight: 195 lbs
   Eyes: Ocher
Elements:

-Darkness
-Gravity
-Cure
-Time

Stats:
STR | 8
CON | 4
AGI | 8
MAG | 10
SYN | 0

---
    Sociable and flirtatious, Belal often finds himself amongst crowds of people. His love for adventure and new experiences have netted him quite the resumé. He has many contacts to call on, but they aren't always so inclined to answer. While he may have a penchant for first impressions, he excels at making plans he doesn't intend to keep. And, even worse, he tends to flake on plans he did intend to keep — a testament to his changeability.

    If you find yourself able to look past his unreliable nature, you might find his spontaneity endearing. And fondness deterred is an unsurprising conclusion for the modern day recluse. Belal is known to drag the unwilling through his self-interested escapades, but is quick to abandon others when he finds an off-hand whim or meager interest more desirable. At the very least, you'll enjoy his company, however short it may be.

    Not one to complain, Belal fills the air with conversation. If a person is unresponsive, whether they're uncomfortable or not one to talk, he doesn't mind the silence. Anything's better than being alone. He isn't afraid to be, but shared memories eclipse an individual experience. A conversation can only be had by two people. Life rewards company.

| LEGACY |
Etzolix
60,000 words

Belal

The Eldritch Horror




Post Count

: 83




Monte

Keeper of the Abbey




Post Count

: 140



Dropped, but I will be posting on this account until all of my current RPs are resolved.
___________________
Darkness | Gravity | Cure | Time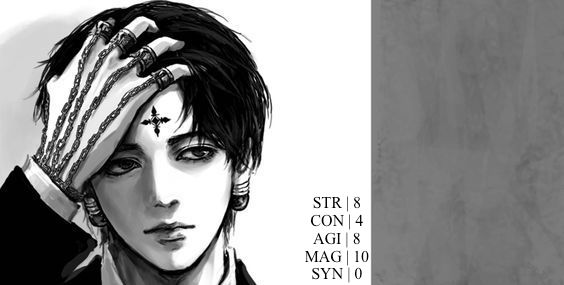 Black Bishop

Belal

The Eldritch Horror




Post Count

: 83




---
Permissions in this forum:
You
cannot
reply to topics in this forum