Name: Zion A. (A is Short for his last name)
--Age: 15 (see history if your wondering why he aged)
--Appearance: he has blue eyes, a blue coat and a red undercoat, he has brown hair and white skin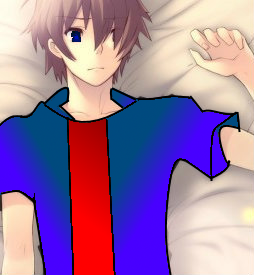 (I tried editing lol)
--Sex: Male
--Species: Human
--Personality: He gets stressed easily, and isn't really as nice he use to be and he tends to be a jerk to older people but he is much nicer to younger people. He loves to fight too, sense everything he has went threw and his need to fight when he was younger
--Abilities and Skills:
Water breath: Zion can breath under water
You can't hit me: Zion can teleport (the cool down is 3 posts)
Shut up shut up!: Zion, if angered, can use fire magic (Shoot fireballs, his fists can turn on fire and scorch objects and people)
....: Zion can heal and cure people when upset
History: Zion woke up near a lake on destiny island remembering nothing but his name.He looked around and there was nothing but a shirt it was black with a green Z on it. Zion was dressed in a green shirt and jeans. Zion didnt remember putting on clothes today...or any day. He wondered who's shirt thats was and why is it here.Zion stumbled to a small village that seemed to be abandoned. He found a saber (one side is sharp the other side isn't)  in someone's old house. Time for Zion to restart in a way.
After a few months Zion started messing with magic, his eyes changed color as a result, the hobby tended to get him introuble, because of the way he used the magic, it wasn't very good mostly. The more and more he grew mentally the more and more he grew up (magically). He started taking care of kids that he defended from the police (they just took an apple, it was just an apple, like what the hell, you guys act like an apple is a gold Egyptian artefact) there names are Sam and Elliot (Sam is female Elliot is male). Zion now has a job and a house in destiny island
--Elements
Heart:Light
Main element:Fire
Secondary element:Water
Thirdindary(that's right right??) Element:Rose/Flower


Last edited by Zion on September 14th 2016, 7:19 pm; edited 7 times in total

___________________
I say stupid things that mostly I don't mean.....forgive me if I hurt your feelings. Remember my age for a sec would ya I mess up *insert smilly faces here*
Also thanks Kia for my old avatar sence my computer and ace for helping with the FC, and my current avatar was edited by me