Statistics
We have
3557
registered users
The newest registered user is
Shirou Seeker of Duckness
Our users have posted a total of
143994
messages in
12544
subjects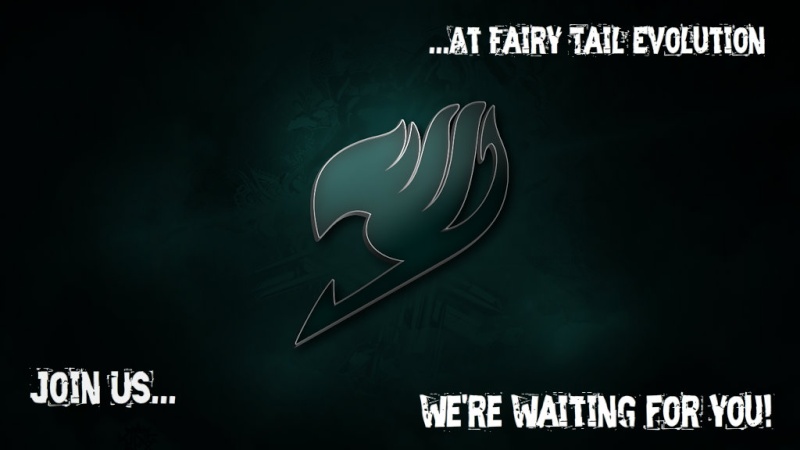 Fairytailevolutionrp.forumotion.com
Non-Canon
The Fairy Tail Anime / Manga characters do not exist here.
Fairy Tail Face Claims are allowed though!
In the last 50 years... much has happened... Fiore went through many dark days as the dark dragon Acnologia, threatened to destroy the world and all that we know. The light and dark guilds joined forces and sent the evil dragon back into hiding. After the evil dragon was sent away by the combined powers of almost every mage in all of Fiore, the country suffered through many dark times. There was much poverty, many guilds were disbanded and their members scattered across the country. Some of those scattered mages went to other guilds, some remained guildless. The Magic Council had been destroyed and most of the members retired.
Now in the present... The legal guilds are growing in power once more, a new Magic Council has come into power. The rune knights are back and stronger than before. A new generation of young mages have risen and are actively out trying to help others, some being the opposite. The legal and dark guilds may have been allies at one point to achieve a similar goal, but they have not forgotten their constant and ongoing war between good and evil. The world as we know has evolved and a new guild known as Heaven's Mayhem has opened up shop.
In these times of light and hope, many mages have become ambitious and try to influence the magical world greatly and in different ways. Many dream of creating a Guild of their own, becoming a Wizard Saint, attaining glory and fame. Others dream smaller dreams, finding a place where they belong, the path they are to walk, the person they are to be with. This world, full of adventure and greatness is within reach.
All you have to do is reach out your hand and take a chance....
___________________________________________________________________
Welcome to Fairy Tail Evolution! A brand new RP forum brought to you by the minds of your fellow and loyal fans of the Fairy Tail series. This awesome non-canon RP forum has many, many things to see! This is a place of fun and freedom, a place to really call your own. A place where you have almost absolute creative freedom. A place full of magic and mayhem. A place to become anything you want to be. Join a community full of fun and nice people who you can RP with to your heart's content! Here at Fairy Tail Evolution, you can...
Create Your Own Custom Magic!
Do you have an awesome magic idea that is just begging to be put to use? If so, you can make it here. Have you ever dreamed of becoming a dragon or even a god or demon slayer? Well that dream can finally come true, apply for one of the many slayer positions we have open. Maybe its your dream to be just like Lucy Heartfilia? If so, then you can become a celestial spirit mage, just like her!
Create Your Own Guild!
Do none of the current guilds suit your fancy? That's fine, make your very own guild! As a guild master you become X rank. You have the privilege of making the guild information, creating your very own custom guild hall, and all that other good stuff!
Make Powerful Teams!
If you've ever dreamed of being on a team like Natsu, then find some friends and form a team. You can give it whatever name you want. Become the strongest team in your guild.
Create Unique Equipment & Pets!
Here at Fairy Tail Evolution, you have the ability to purchase an awesome weapon, armor, item or pet. You can create almost any kind of weapon, armor, item or pet that you want! Your only limit is how far your creativity can go. With a cool weapon or armor, you can make your character a total badass!
Go On Death-defying Missions!
Is it one of your dreams to go on missions like Natsu and maybe kick some bad guy's butts or maybe even help retrieve something that was stolen? If so, that dream will definitely come true! Go on some of the awesome jobs we have available. Or if none of them are to your liking, make a custom job in which you make everything from the info to who your enemies are. It's all up to you!
This Site Also Includes...
-Stats System
-Races System
-Magic Perks System
-Marriage System
-VIP System
-Level/Rank System
-Dice Rolls
-Magic Council Positions
-Guild Master Positions
-Wizard Saint Positions
-10 Sinners Positions
-Staff Positions
-Friendly and helpful staff
-Tons of RP areas
-8 Wizard Guilds(5 legal, 3 dark)
-Evolving Site
-Events
-Contests
-Giveaways
-Chatbox Icons
-Username Glows
-Username Sparkles
- GFX
And much, much more~!
Come check us out HERE~!

FTERPAdmin

Guest







Similar topics
---
Permissions in this forum:
You
cannot
reply to topics in this forum