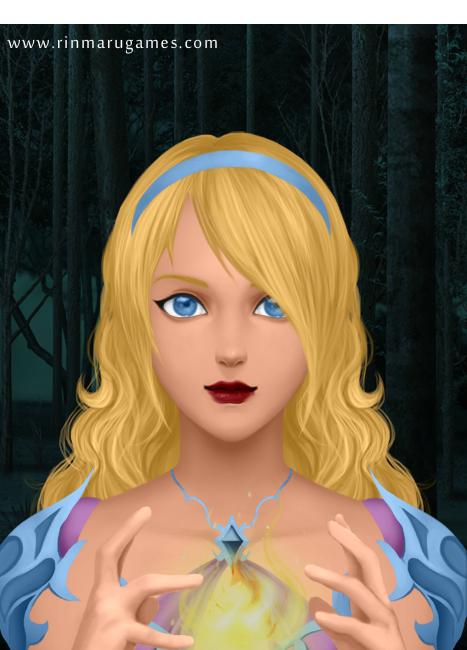 Name:
Kia Saikou
Age:
16 (June 21)
Gender:
Female
Home World:
Destiny Islands
Race/Species:
Human
Appearance:
 The sixteen year old stands at a height of 5'3, weighing 133 pounds. Due to excessive hours of training with magic and weapons, Kia has a slim yet athletic build. Despite her athletic build, the young lady has delicate features. A heart shaped face, an upturned nose, full lips, straight teeth, golden locks that stops at her shoulders, and striking blue eyes. Her attire consists of bright clothing, which is hidden underneath heavy armor and weapons.
Alignment:
Neutral Good.
Elemental Mastery:
Heart:
Light
Primary:
Lightning
Secondary:
Cure
Tertiary:
Water
Personality: To be added
History:
Kia nee Masuni-Saikou was born in Destiny Islands, to a Registered Nurse and a Businessman. She has three brothers and one little sister, her life has always been uneventful due to living in the Islands. While the community she was raised in had a strong family bond, she grew bored and have always seeked adventure elsewhere. On her eleventh birthday, her and her family celebrated on the Seashore. Her brothers have dared her to go to the Cove and pluck a Papou fruit from one of the trees. On her arrival, a man in a clocked robe told her about the Worlds and asked her if she wanted to join him. Not knowing who the man was, Kia kneed him in the groin and ran away from him. Her eldest brother Hidenori gave her a staff for her birthday, she named it Hamako and left it in her closet since she had no use for it.
As a schoolgirl in her seventh year of junior high, she was just an average girl who played flute in the band and hung around her brothers and their friends. Even though she had a friendly nature, her brothers' friends didn't take a liking to her and referred to her as 'annoying'. She never got along with her classmates because of her over-excitement and optimistic nature which some would brand as 'childish', so she would spend her lunchtime alone. On a normal day while walking with her brothers to school, she decides to ditch and runs over to the Seashore...
After standing in the sand for a few minutes, she runs into the previous Mayor of the island, a young boy named Mystic. He talked about other worlds and exploring, the girl listens on with interest but is interrupted by a man with an 'X' across his face and blue hair. He subtly convinces her to stay, but she fights against it and he leaves. After the Mayor gives her a light blue Gummi ship, she sneaks into her home and packs up a few clothes to start her adventure (As well as the staff her brother gives her). A stranger with wings falls out of the sky, she uses the few medical supplies she has to patch him up. He introduces himself as Zeferoth and the two become fast friends as they decide to partner up together and find a friend that he has lost on his journey. The two venture off to Wonderland, where they meet a boy named Sora, whose looking for two of his friends. The three ran into the queen, Kia accidentally electrocutes the Queen of Hearts! A chase begun and her and Zeferoth are eventually separated from Sora, they decide to go to Radiant Garden to look for Zeferoth's friend.
While Kia shopped for supplies, the marketplace was swamped with heartless. As she ran forth to attack, a young woman with a giant paint brush stepped in. After the battle (And Kia throwing a watermelon at one of the heartless), the young woman introduced herself as Lilac and she also had a partner with her by the name of Mizan, the girl was about Kia's age and also a bit timid. After finding Zeferoth (or Zef) having nightmares in the Gummi Ship, the four eat at a diner in the world. Soon, more heartless appeared and Kia struggled even more to help fight them off along with the others. After Lilac and Mizan say their goodbyes, Kia asks Zef if he can train her and he agrees, they head off to Dwarf Woodlands. In the world, they train, talk about their pasts, and are suddenly ambushed by murderous rangers in the world. After they both find a black Gummi Ship, Zef tells her to go alone so he can fight the rangers off. After crying and hesitating, she gets into her ship and goes to another world.
In Agrabah, Kia helps defeat heartless with the skills she learned from Zeferoth. She runs into a young lady by the name of Princess Jasmine, Princess Jasmine asked Kia to help look for her boyfriend, father, and friends, Kia accepted but later refused after they were already found. After departing Agrabah, Kia lands in her hometown of Destiny Island where her former classmate Kotaro was, he asked to go to other worlds with her and she agreed. While she was curious and excitable, he was sullen and enigmatic, but they got along just fine.
Their first stop was Castle of Dreams, the two landed in front of the castle and walked beyond castle gates. While attempting to ask for a place to stay, they run into the King of the Castle himself and a orange-haired teenage boy fighting. The orange-haired teenager by the name of Jack Hallcome went after her with magic, but the king interfered and saved her just in time. Jack Hallcome left along with a dark haired guy by the name of Shirou. After Jack and Shirou left, the King introduced himself as Alexander. After being invited to stay in the castle, and in exchange for shelter she became a healer. A few days after being trained, a horse came by during a break and led her and a few other healers to the front of the castle where a fight broke out.  Kia recognized that her old friend Zeferoth was involved in the fight, along with one of the heartless that they encountered in Radiant Garden. The young girl expressed disappointment in Zeferoth, disappointed that he would get involved with such fighting. After taking him to the castle and healing him up, a rift opened up releasing creatures called Dis-tient. After chaos ensued (Kia getting knocked out, Alex and Zeferoth looking for her, Zeferoth and Kotaro going into the village and encountering a Dis-Tient disguised as a little girl, Alexander having nightmares about Tarsi, a ghostly form of Tarsi telling Kia to take care of Alexander, everyone just waking up in the middle of the night TALKING about memories and nightmares, Kia telling Alexander she's worthless 
Level || 5
Strength || 9
Constitution || 8
M. Affinity || 10
M. Resistance II
Dexterity || 5
Speed || 4
Stamina || 6
Saved for later:

Kia is a very sweet and very outgoing girl, She is also curious and sometimes meddling in people's businesses due to being in an extended family. She is protective over the friends and will always go out of her way to help people. Excessive personal loyalty is her fatal flaw, she would risk her life to protect friends, family, strangers, and even her worst enemies. Raised in a sheltered lifestyle, she is always exploring and getting herself into trouble, which could be indicated that she is reckless and impulsive. While she is your typical damsel in distress, the thirteen year old has her heart in the right place, and will always fight for the greater good.


Last edited by Kia on April 16th 2016, 12:31 pm; edited 17 times in total